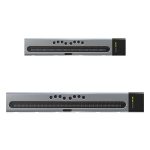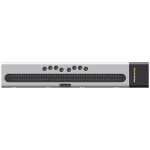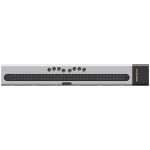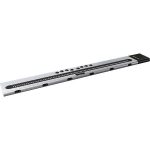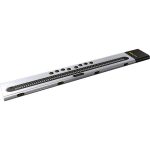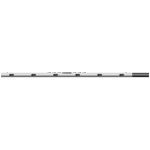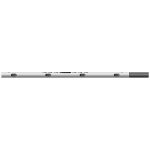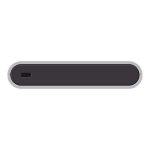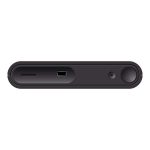 esys is a refreshable Braille display with integrated Braille keyboard and navigation keys. It can be used independently or as part of a PC workstation.
EUROBRAILLE'S COMMITMENTS​
*for products manufactured by eurobraille only
Connected through Bluetooth or USB, esys assists the blind people to navigate through the different applications in their phone, tablet or computer in order to read or write emails and text messages, manage their contacts or surf on the Internet. It has a professional and discrete design with grey aluminium housing and black plastic details.
Stand alone Braille display with internal functions
esys
features a 10 key Braille keyboard, which gives the possibility to reproduce all standard key combinations, both for typing and navigation, enabling the user to easily navigate through the computer, Windows and the applications. The internal applications can be used either independently or the information can be saved on the Micro SD-card (included). Compatible with all screen readers (Jaws, VoiceOver, Talk-Back / Braille-Back, SuperNova, NVDA, etc.),
esys
can be used with your existing hardware (Windows, Mac, Android, Linux …)
esys
has two joysticks located on both sides of the Braille line which can be used to quickly control Microsoft Windows or the screen reader menus. The lower front navigation wheels are used to move forward or backward through the information. Thanks to
esys
efficient battery life and its modern design, it is the perfect partner for your everyday work life !
Choose the right model (number of cells) for your needs
64 cells : ideal for educational and professional use
80 cells : your choice for the work environment
Note that
esys
is also available as a display with no Perkins keyboard :
esys 64 light.
esys 80 light.
Please contact us for more information.
Especially designed for the visually impaired, the duo
esysuite + esys
offers all the necessary tools to manage printing in Braille, black ink characters or both (text, mathematics, music, etc…) Install
esysuite
on your PC (Windows) to take advantage of a unique software suite, designed for people with vision loss :
text editing…
math editor with Braille translation, formula management…
braille translation as well as printing (black ink characters or Braille) of notes taken using esys
integrated OCR (text recognition) to convert scanned documents into text…