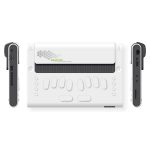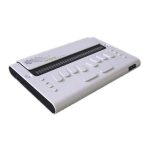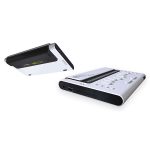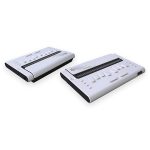 esytime evolution is a new generation Braille device. This is a notetaker, a Braille computer and a Braille display, all-in-one, compact and autonomous.
EUROBRAILLE'S COMMITMENTS​
esytime evolution is equipped with a 32-character Braille display, a 10 key Braille keyboard, 2 joysticks, 8 function buttons and a exchangeable battery providing up to 13 hours battery life.
Esytime Evolution : A real Braille computer
Windows 10 provides the stability of esytime evolution. The standard screen reader NVDA is included and ready to use. Alternatively, you can install Jaws, Supernova, Cobra… or other compatible Windows software needed and of course connect your peripherals (printers, scanners…). There will be no more software compatibility issues ! You can also browse the Internet or manage your email anywhere using Wifi… No need to carry both a PC and a Braille notetaker with you: esytime evolution is enough! Using its Braille terminal mode, esytime evolution can be connected to your personal or business computer with a standard screen reader for reading, working and navigation.
esysuite, the ideal addition
esysuite
 is a very powerful software suite located inside
Esytime Evolution
, designed especially for the blind population in the educational environment. It turns your
esytime evolution
into a notetaker which operates independently from Windows 10.
esysuite
 is easy to keep up to date and can be upgraded with new modules and features to meet the evolving needs of the blind users. It requires no previous computer knowledge and has its own high quality speech synthesis.
esysuite consists of several software modules:
esynote: manages different types of Braille in the same document, such as 8-dot computer Braille, Grade 1 and Grade 2 (contracted Braille), mathematics (integrates scientific calculations) Braille code and international Braille music code. It is possible to create a single printable document in Braille or in black ink characters. esynote makes the conversion to optimize black ink printing.
esyfile: uses the file manager to organize your files, folders and subfolders.
esyschool : manages your schedule and the tasks in the student assignment booklet.
esyOCR : using this menu option combined with a simple scanner allows you to scan documents and display their content in braille or as audio output. esyOCR converts your Esytime Evolution to a reading machine.
esymath : a unique tool supporting math problems and courses tasks displaying them in black ink characters and braille or vice versa.
esytime evolution
also features access to Internet, plus an audio and Daisy player!
All compatible Windows software or devices can be used with esytime evolution.